Email
sforrester@jandsonhomes.com.au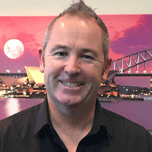 About
Scott started with Jandson Homes in 2013 but has a long association with the building industry being stepson to one of Jandson Homes founding members, Terry Sullivan. As a trained school teacher and with over 25 years in the hospitality industry to his credit, Scott's step into a sales role with Jandson was, by his own admission, a natural progression. "When the restaurant I was managing was sold I decided that it was time to move to a new career path. A path that I secretly knew all along would be my final career choice. After being given a chance by Graham to prove myself I feel I have fitted in extremely well with the Jandson family and enjoy the challenges that I'm confronted with daily. To say this is a rewarding job is a massive understatement. To have a young, first home buying couple come through the door and being able to lead through the sales process right up until such time they are handed their house keys is one of the most rewarding feelings you can experience. Buying a home, for most of us, is the single biggest investment we will make in our lives. I always keep that in the back of my mind when dealing with clients, whether they are first home buyers, investors or people who upgrading or down sizing the family home. They are all the same to me. I believe they should all be treated with the highest level of honesty, professionalism and integrity that I can provide." Scott has recently been moved into a new role at Jandson as the Business Development Manager. Scott spends most of his downtime outdoors. Whether its scooting around on his motorbikes, windsurfing, kayaking or simply lounging around on the beach you will be hard pressed finding him inside on his days off.
Contact
Properties Listed by Agent
No listed properties found.